C'est officiel, la 6MIK CUP 2015 aura lieu dans le super club de THIERS (à côté de Clermont Ferrand) les 4 et 5 avril 2015.
It's now official !  2015 6MIK CUP will held to the amazing Club of Thiers (near Clermond Ferrand), the 4th & 5th of April…
Comme l'année dernière les 4×2, 4×4 et Brushless seront admis… Toutes les marques de bolides peuvent participer, mais les pneus 6MIK sont obligatoires…
Same as past year event, 2wd, 4wd and EP will be welcomed… All buggy's brands are allowed, only 6MIK tyres are necessary…

Un seul objectif: prendre du plaisir et apprendre!! Alors réserver des maintenant votre week end.


1 goal only : have fun and learn !! So, stay ready to entry !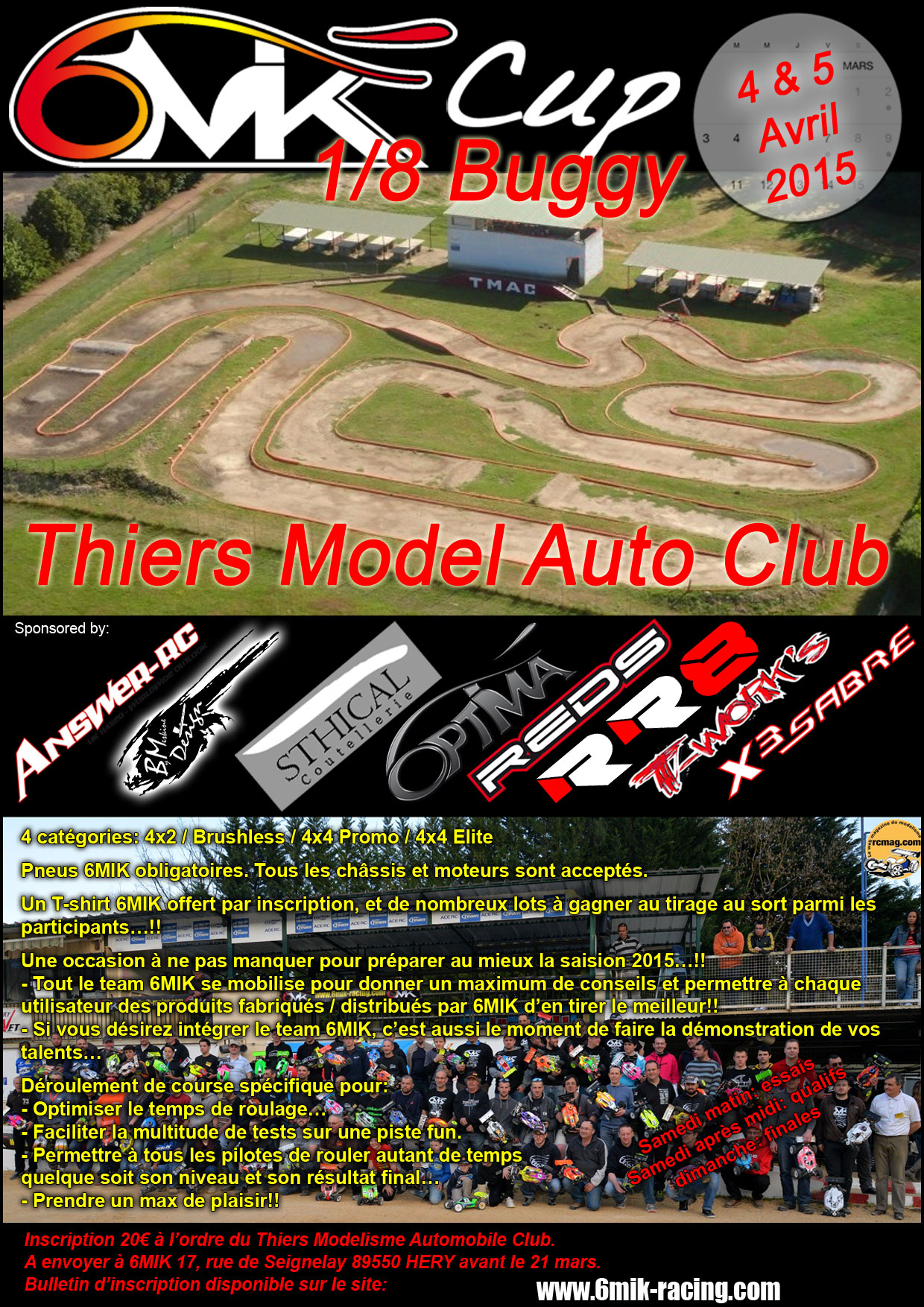 Les inscriptions sont ouvertes.
6MIK Cup registration is now open.
Vous trouverez en bas de page le bulletin à remplir et à nous renvoyer. N'attendez pas trop, les pilotes seront pris dans l'ordre d'arrivée.
You can find attached the registration sheet you have to fill and send us back. Do please not wait for the last minute, as registrations will be taken into account in the order of receipt.
Possibilité de s'inscrire dans 2 catégories simultanément, mais si cela est nécessaire, 6MIK se réserve le droit de ne prendre qu'une seule catégorie afin de permettre à un maximum de pilotes de participer.
You can be registrated in 2 different categories, but if necessary, 6MIK can finally decide to keep your regsistration for 1 category only if it allows more different drivers to enter the race.
Pour les débutant, il est possible de vous prêter une puce de comptage pour cet évenement, par contre, il est impératif d'en faire la demande avec l'inscription.
For not equiped rooky drivers, it is possible to be loaned a transponder for the week end, but it is absolutely necessary to ask for it at the registration step.
Pour toute information complémentaire, merci de nous contacter par mail: seb6mik@orange.fr
For all further informations, do please contact 6MIK to : seb6mik@orange.fr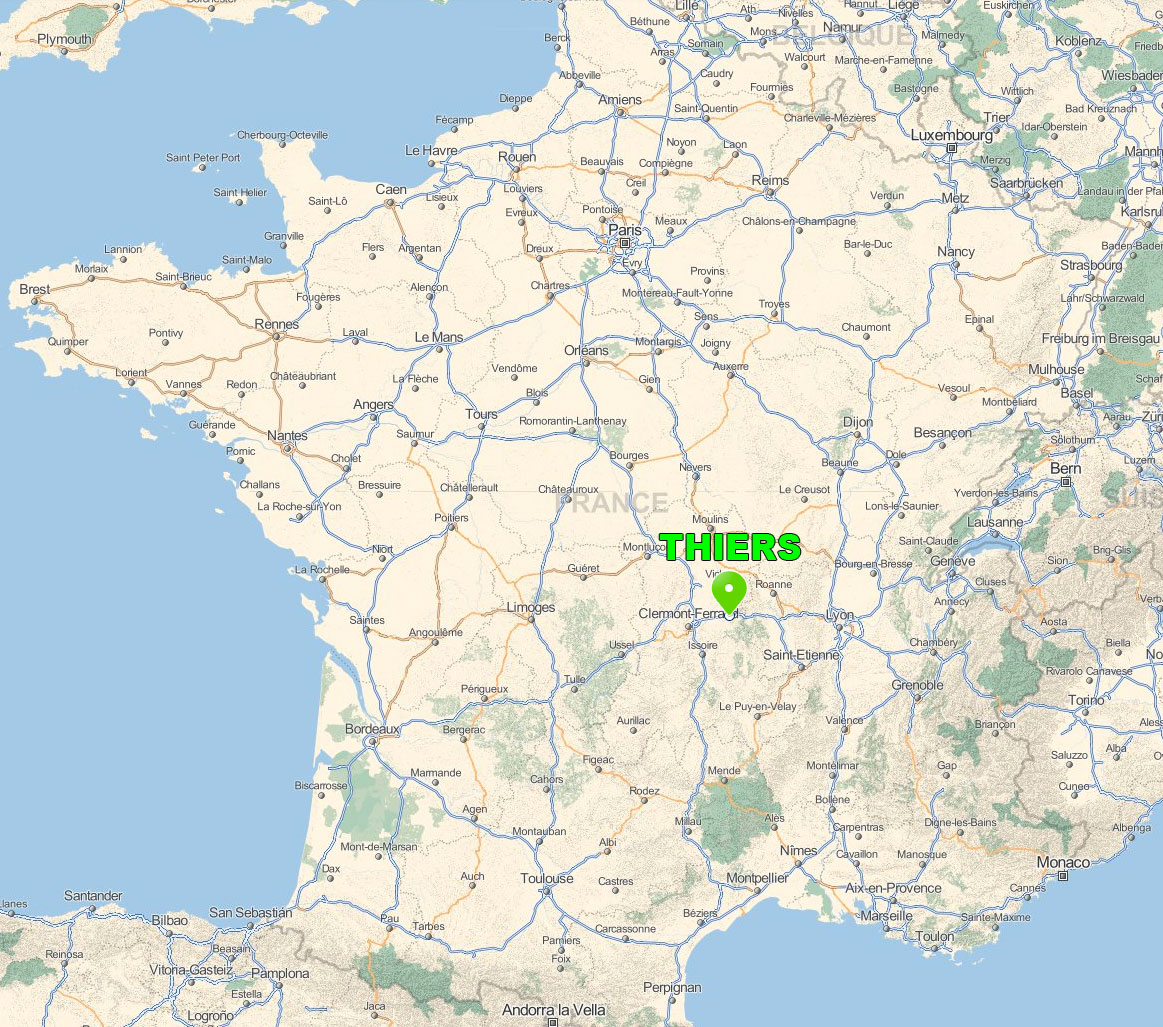 Timing – Version telechargeable pdf
Séries – Version téléchargeable pdf
C'est fini, la 6MIK CUP 2015 à réunit 99 pilotes (4 absents) dans la bonne humeur. Une météo capricieuse le samedi, mais un beau soleil le dimanche. Une piste et une organisation du TMAC au top…!!!
Le team officiel 6MIK à fait le spectacle et distribué un maximum de conseils. Certains pilotes sont venus pour montrer qu'ils apprécient 6mik, d'autres ont pu découvrir et apprécier nos productions.
Chaque pilote à reçu un T-Shirt 6MIK à l'inscription, à pu rouler entre 1 et 2 heures selon sa volonté à faire des essais (sur l'humide).
70 lots ont été tirés au sors parmi tous les inscrits avec notamment un moteur REDS, 3 superbes couteaux de Thiers, des coupelles aimentées Dm Design, des lots remis par Top Options et bien sur des pneus, valises, T-shirt, polaires, carburant, etc… 6MIK
Fait marquant, la participation et l'exceptionnel pilotage des jeunes présents. Avec Notamment Florent DENERVAUD, 8 ans 1/2 et déjà 10e en finale A Promo. Arthur TRIBOULET, 11 ans; Antoine BABOLAT, 14 ans et Corentin LOISON qui gagne la A en 4×4 Promo à seulement 13 ans. BRAVO !!!!
Un grand merci aux membres du TMAC, et à tous les participants pour la bonne ambiance et le bonheur qu'ils nous procurent à organiser cette course un peu spécial. A l'année prochaine…
Photos du Week End:
Remises des lots en tirage aux sorts: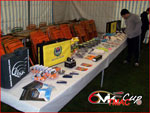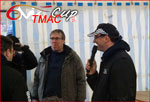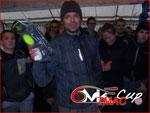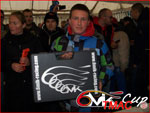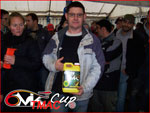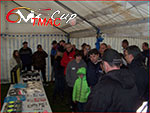 Vidéos:
Nico RODRIGUEZ  VS  Thomas MUSSO