C'est dans le secret le plus total que durant plusieurs mois, les pilotes et développeurs de 6mik guidés par Sebastien Léonard ont travaillé à la mise au point d'un moteur 1/8 Tout-Terrain haute performance destiné aux pilotes les plus exigeants, le SLR5.
GB – This is in total secrecy that for several months, 6mik drivers and developers guided by their leader Sebastien Leonard worked on the development of a 1/8 high-performance off-road engine for the most demanding pilots, the SLR 5 engine !

Ce moteur, commercialisé sous la marque OPTIMA est le résultat de 25 ans d'expérience du fabricant Français.
Pour ce moteur, 6MIK a spécifié, développé, testé et validé chaque pièce en accord avec son cahier des charges ultra exigeant.
This engine, marketed under the brand OPTIMA is the result of the 25 years experience of the French RC manufacturer.
For this engine, 6MIK specified, developed, tested and validated each part according to its ultra demanding technical specifications.
Pour la fabrication, après avoir fait réaliser et testé de multiples prototypes venus de partout dans le monde, 6mik choisi CRF pour la qualité de fabrication et de finition proposé.
For the manufacturing, after testing of many prototypes from around the world manufacturers, 6mik selected CRF for its manufacturing quality and finishing details offered.

Comme a son habitude, 6mik voulais proposer le meilleurs de la technologie actuelle à un prix accessible à tous. Mission réussi !
As usual, 6mik wanted to offer the most advanced of current technology at a price accessible to all. Mission Achieved !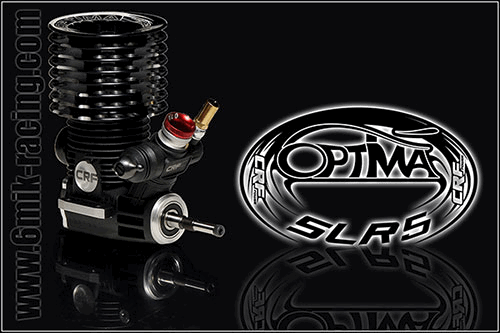 Cliquez pour agrandir / Click to Enlarge








Un moteur de F1 à la portée de tous!
Vendre un moteur performant… facile! Un moteur pour les débutant… facile aussi!
Mais proposer un moteur capable de contenter les pilotes les plus exigeants tout en le rendant utilisable par tous, c'est un véritable challenge que l'équipe 6MIK à voulu relever…!!!
GB – A Formula 1 Engine for everyone…! Providing a powerful engine is easy…! An engine for beginners… easy too ! But to offer an engine able to satisfy the most demanding drivers while making it usable by all… This has been a challenge that the 6MIK Team wanted to take…!!!
Un moteur performant ce n'est pas seulement un moteur puissant, pour pouvoir faire tomber les chronos pendant toute une finale, et ce qu'elle que soit le type de circuit (glissant / accrocheur) il doit:
– Répondre sans temps mort à chaque sollicitation de la gâchette pour toujours gérer les glissades ou les trous…
– Toujours rester souple pour trouver la motricité et ne pas déstabiliser le châssis…
– Revenir très vite au ralenti pour ne pas sous-virer avant un virage…
– Avoir des réglages stables tout au long de la journée…
– Avoir un excellent rendement pour avoir une bonne autonomie…
– Propulser la voiture d'un virage à l'autre le plus rapidement possible pour gagner du temps…
– Avoir des performances constantes et parfaitement identiques d'un tour à l'autre pour permettre au pilote de toujours passer chaque portion du circuit à la vitesse idéale…
A performant engine is not only a powerful engine. To make the best lap times all the finals along, and this, whatever track conditions are (slippery, grippy, etc…), the engine should :
– React without dead-time to all solicitations trigger to always manage properly car slips or holes on the track.
– Always stay sweet enough to provide traction without destabilizing the car.
– Quickly come back to idle to prevent understeering before to enter enter the corner.
– Provide stable settings all the day along.
– Offer excellent performance to provide the lowest fuel consumption possible.
– Provide a great power to the car from a corner to the following one as quickly as possible to save time.
– Provide equal and consistent performance lap after lap to allow the driver to always pass each track parts at the wanted speed (no more, no less)…
Pour être accessible aux pilotes de tous niveaux, il doit:
– Être facile à régler, ce qui veut dire que l'on sent la différence lorsque l'on touche le carburateur, mais que ce n'est pas sensible pour autant…
– Être facile à roder…
– Pardonner les erreurs de réglage de carburation et ne jamais caler sans raison…
– Être vendu au meilleur prix…
– Avoir une finition exemplaire pour que tous les moteurs soient identiques…
To fit all drivers' skills, it must :
– Provide easy tunning, i.e. the user should easily feel the difference when carburetor screws are turned, but otherwise being the less sensitive possible…
– Be easy to breakin.
– Forgive the carburetor tunning mistakes as much as possible, and never flame out for no reason.
– Be sold at the best price possible.
– Have a perfect finishing to produce all engines as identical.
Mission réussie ! Le SLR5 à toutes ces qualités… il permet donc d'exploiter complètement son chassis pour viser les plus hautes marches du podium! Disponible dans toutes les boutiques partenaires.
Mission accomplished ! SLR5 has all these qualities… It allows you to get the best from your model, to target the highest steps of the podium !
Now available in all official distributor…!!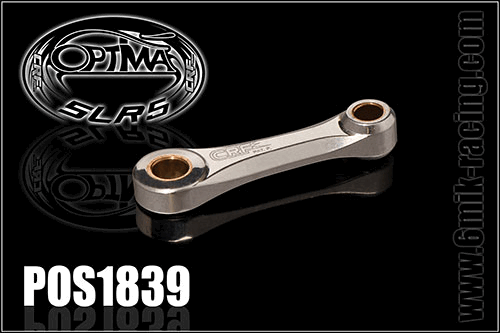 Cliquez pour agrandir / Click to Enlarge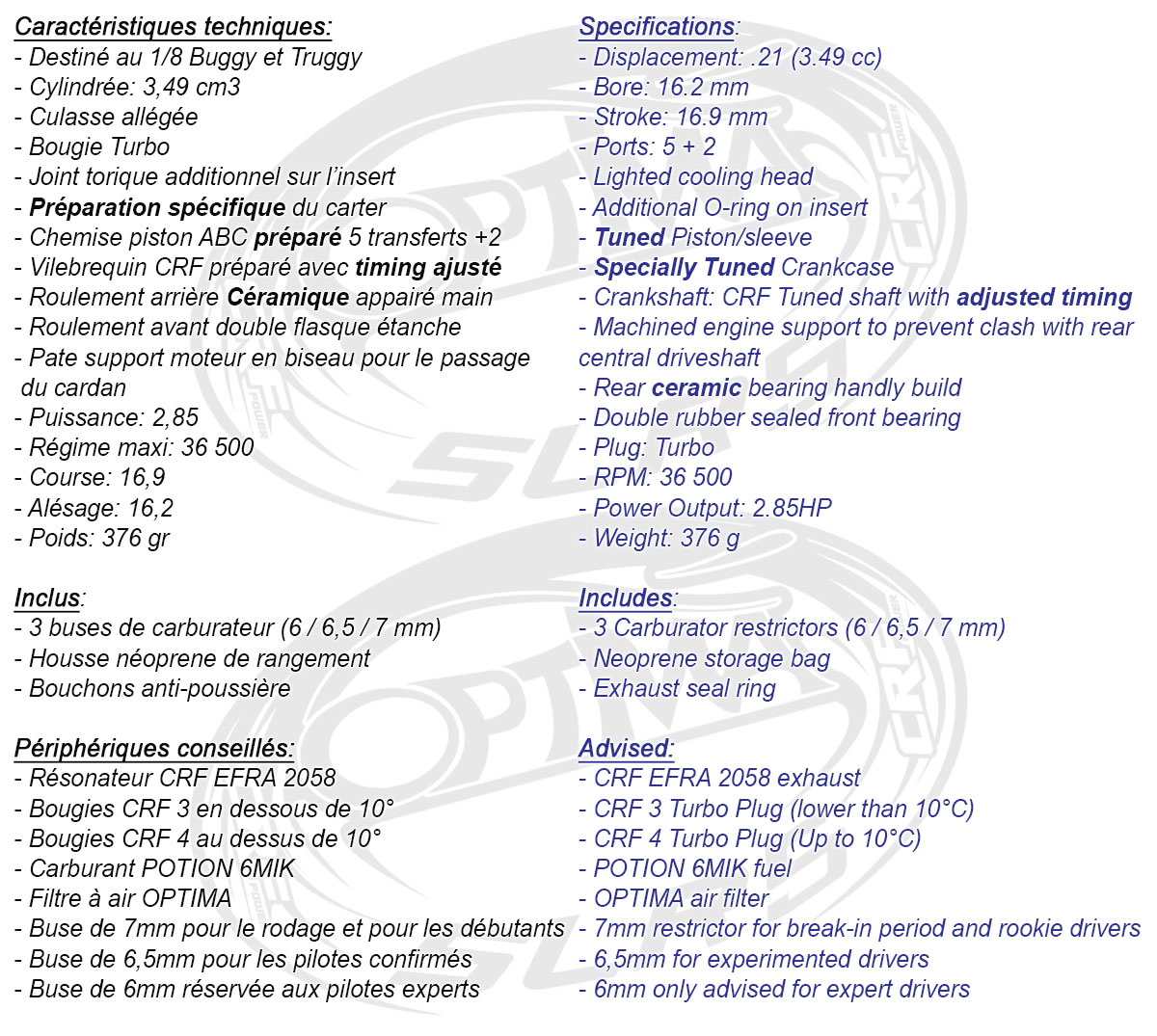 [logo-slider]