set up Euro BLS
Voici le set up de Thomas MUSSO, 3e lors du Championnat d'Europe 1/8 BLS à NOEUX les Mines.
Here is the car set up of Thomas MUSSO, 3rd at the 1/8 BLS European Championship at NOEUX les Mines.
Concernant les pneus:
– Thomas a roulé en BANDIT 0/18 presque toute la course du vendredi aux essais jusqu'aux finales du Dimanche. Il a aussi testé le BARRACUDA 0/18 qui lui donnait plus de vitesse en virage, mais Thomas a privilégié la super motricité du BANDIT.
– Jean-Pierrick SARTEL remporte le titre avec des BARRACUDA en gomme Blue. Cette gomme conçue pour les pistes « synthétique », est fantastique sur la moquette, l'astro, ou le parquet. JP apprécie cette gomme à Noeux car elle donne aussi beaucoup de vivacité à son auto. Pour chaque première manche du matin, JP a mis du BARRACUDA en gomme Green qui est similaire à la gomme Blue mais en plus mou. Cette gomme a aussi la particularité d'aimer l'humidité (mais pas la pluie), et ce, pas seulement sur le synthétique!
Concerning the tires:
- Thomas ran BANDIT 0/18 almost all the race long from Friday practices to Sunday finals. He also tested the BARRACUDA 0/18 which provided him more cornering speed, but Thomas prefered BANDIT super traction.
- Jean-Pierrick SARTEL wins the title with BARRACUDA in Blue compound. This compound, designed for « synthetic » track surface, is fantastic on carpet, astro, or wood. JP particularly appreciates this compound at Noeux, because it also provides a lot of vivacity to his car. For every first heat of the morning, JP always put BARRACUDA in Green compound which is similar to the Blue one, but softer. Green compound also has the distinction of loving wet conditions (but not rain), and not only on the synthetic track!
Le team 6MIK a aussi testé:
– Le RAPID 0/18, facile a piloter, il donnait une voiture très homogène sur tout le circuit, mais les chronos étaient un peu moins bons qu'avec du BARRACUDA ou du BANDIT car il « scotche » un peu plus le train arrière dans le virage.
– Le WEAPON 2.0 donnait un confort extrème, la voiture devient instantanément très saine, sans train avant qui plante, et juste la glisse qu'il faut. Mais il lui manquait juste un peu de motricité sur la moquette pour faire des super chronos… A noter que comme ses picots sont nombreux, il ne faut pas hésiter à mettre une gomme plus molle qu'avec les autres profils de la gamme.
– BARRACUDA et BANDIT en gomme 15/25. C'était la gomme la plus performante sur la terre en pleine après midi, mais elle manquait de grip sur le virage en parquet.
The 6MIK team has also tested:
- The RAPID 0/18, easy to drive, he gave a very homogeneous car on the whole circuit, but the chronos were a little less fast than with BARRACUDA or BANDIT because it provided more grip to the Rear in the corner .
- The WEAPON 2.0 gave extreme comfort, the car instantly becomes very healthy, never bad chassis movement, and the lateral slide just needed. Just a bit lack of traction on the carpet prevented to make the best laps… Notice that as its pins are quite numerous, don't hesitate to choose a softer compound compared to the rest of the range.
- BARRACUDA and BANDIT in 15/25 compound. It was the most efficient compound on earth surfaces in full afternoon, but it definitely lacked grip on the wood corner.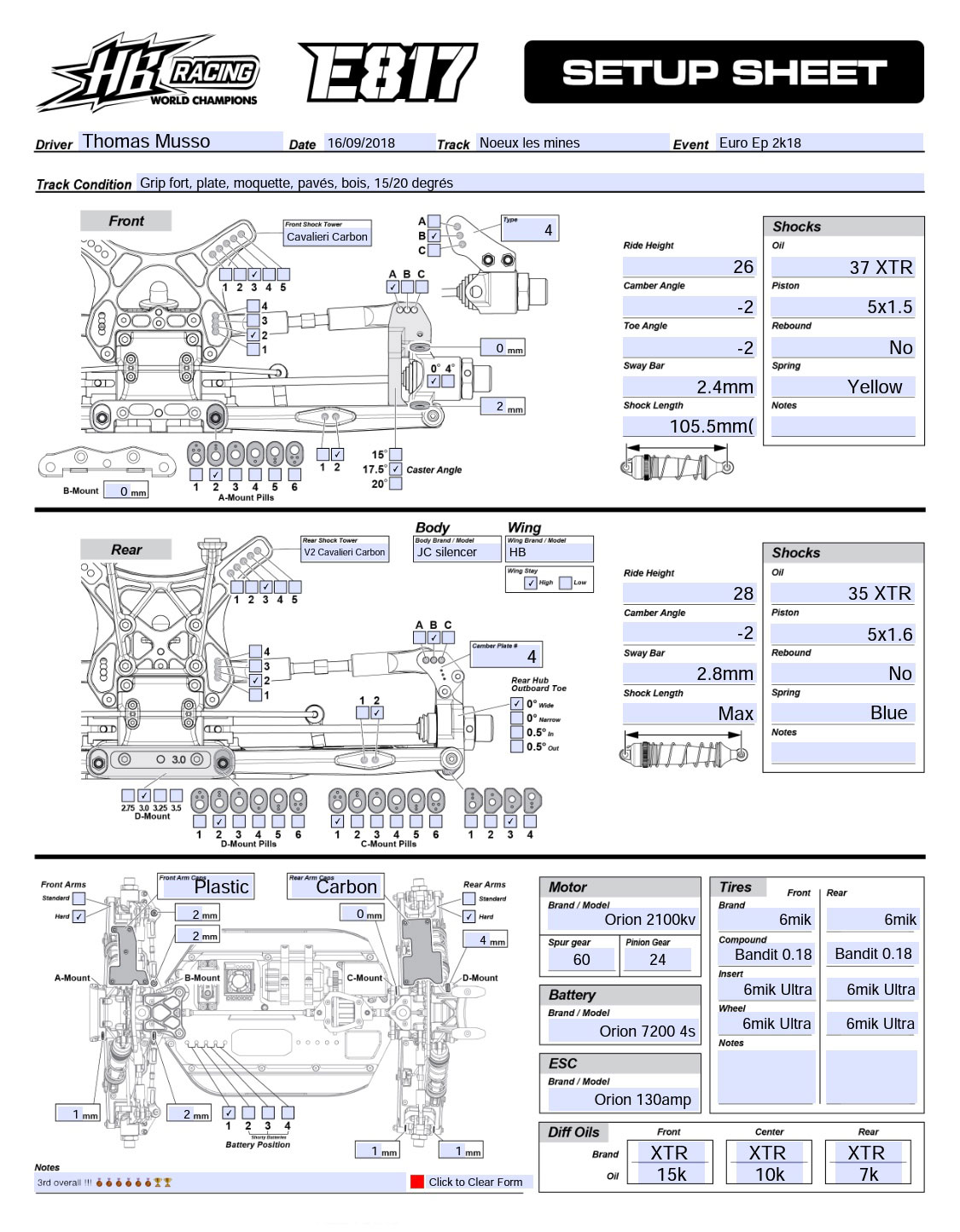 Voir tous les reglages du team / Check all set up of 6mik team