Le nouveau pneu 1/10 Buggy WASABI est maintenant disponible!
Conçu et développé spécialement pour la moquette et notamment l'EOS, celui-ci a fait l'objet d'attentions particulières afin de vous proposer un pneu :
– Au montage et au collage facile.
– Aux performances exceptionnelles: motricité, précision, vitesse de passage en virage…
– Qui limite le sur-grip latéral sur moquettes a forte accroche comme l'EOS.
– Très bien amorti en réception de sauts (notamment sur les sauts en appui)
– Avec des performances qui durent. Grande constance de performance sur une manche, mais aussi des chronos très proches même après plusieurs packs. Perte de 3/10 au tour (seulement) constatée après 7 packs en 4×4 sur moquette EOS (variable selon les pilotes et les types de moquettes).
Our brand new WASABI 1/10 Buggy tire is now available! 
Designed and developed for carpet surface and particularly for EOS type. We specially paid attention to offer you : 
– Ultra Easy mounting and gluing. 
– Exceptional performance : traction, precision, corner speed… 
– Limited lateral flips on high-grip carpets like the EOS type. 
– Confortable jump landing (especially on side landing) 
– Long lasting performances, a great consistency of performance all over the run, but also very close lap times even after several pack runs. During development track tests, we noticed a limited loss of 3/10 sec. per lap (only) after 7 pack runs in 4WD on EOS carpet (may vary according to driver's skill and carpet type obviously).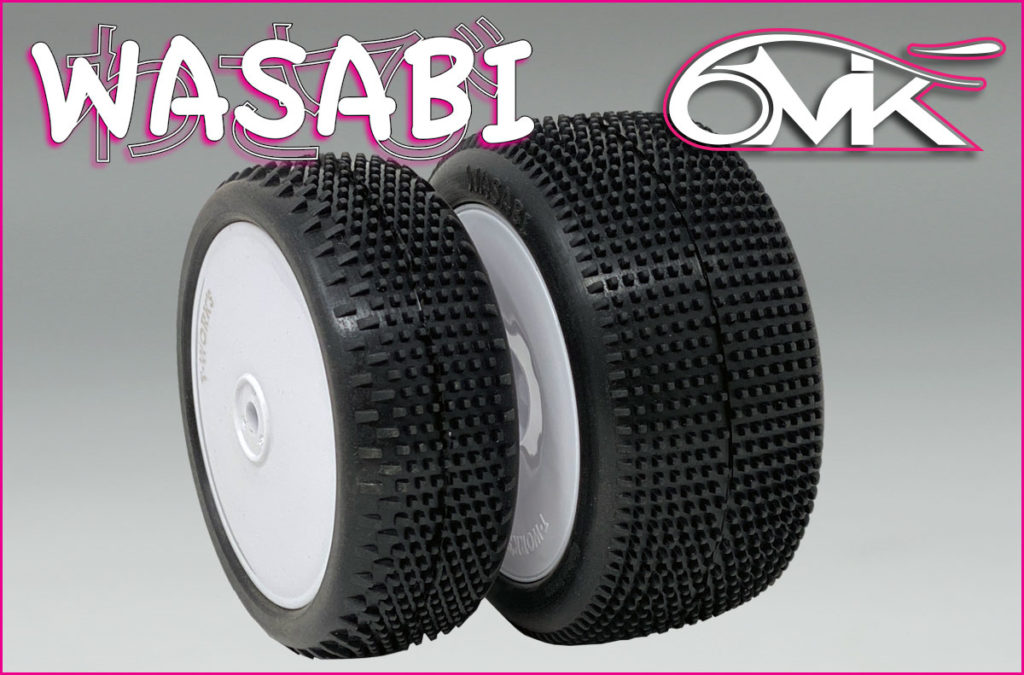 Le WASABI existe pour l'avant des 4×4 et pour l'arrière. Il est disponible en gommes Green (pour moquette et terre humide), en Blue (pour moquette glissante ou par faible température), en Silver (pour moquette standard et EOS) et en gommes terres (Yellow, Orange et Red).
Une mousse spécifique au Wasabi est disponible: PM113S pour l'avant et PM114 pour l'arrière.
A l'avant des 4×2, nous vous conseillons d'utiliser le pneu 6MIK AXIUM dans la même gomme qu'à l'arrière…
Tout savoir sur l'AXIUM 2wd / All AXIUM 2wd informations
WASABI do exist for 4WD Front and for 2WD/4WD Rear. It is available in Green Compound (for carpet and wet natural surfaces), Blue (for slippery or low temperature carpet), Silver (for standard and EOS carpet) but also in Yellow (S), Orange (M) and Red (H) compounds for dry natural surfaces. 
Our special low-profile inner foam insert is strongly advised inside the 4WD Front WASABI (#PM113S) and is also available in combo with tires (#TM111S). Our #PM114 foam insert is adapted for the Rear WASABI, and available in combo too (#TM112S). For Front 2WD, we advise you our 6MIK AXIUM pattern you would choose in same compound as for Rear…
Même si le WASABI est destiné au pistes en moquettes, celui ci est aussi très performant sur pistes en terre sans poussières a fort grip à conditions de choisir la gomme adaptée (Yellow, Orange et Red)
Even if WASABI is intended for carpet track surface, it also performs very well on dust-free tracks with high-grip conditions, obviously chosen in the appropriate compound (Yellow, Orange or Red).