Le célèbre embrayage 4 points OPTIMA évolue encore, pour être toujours plus fiable et performant…!!
– Nouveaux ressorts plus long
– Nouvelles masselottes avec encoche de guidage de ressort
– Pates de maintien de vis renforcées
– Nouveau look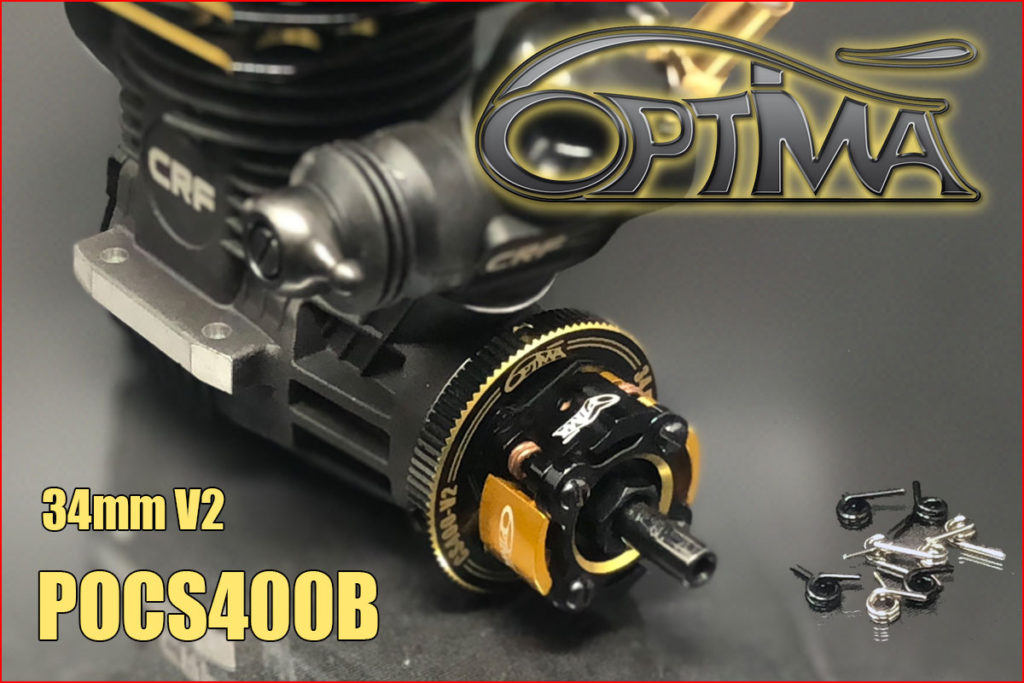 GB – The popular OPTIMA 4 shoes clutch set still evolve, to become ever more reliable and powerful…!!
– New longer springs
– New shoes design including spring offset hole
– Reinforced frontal screw plate
– New design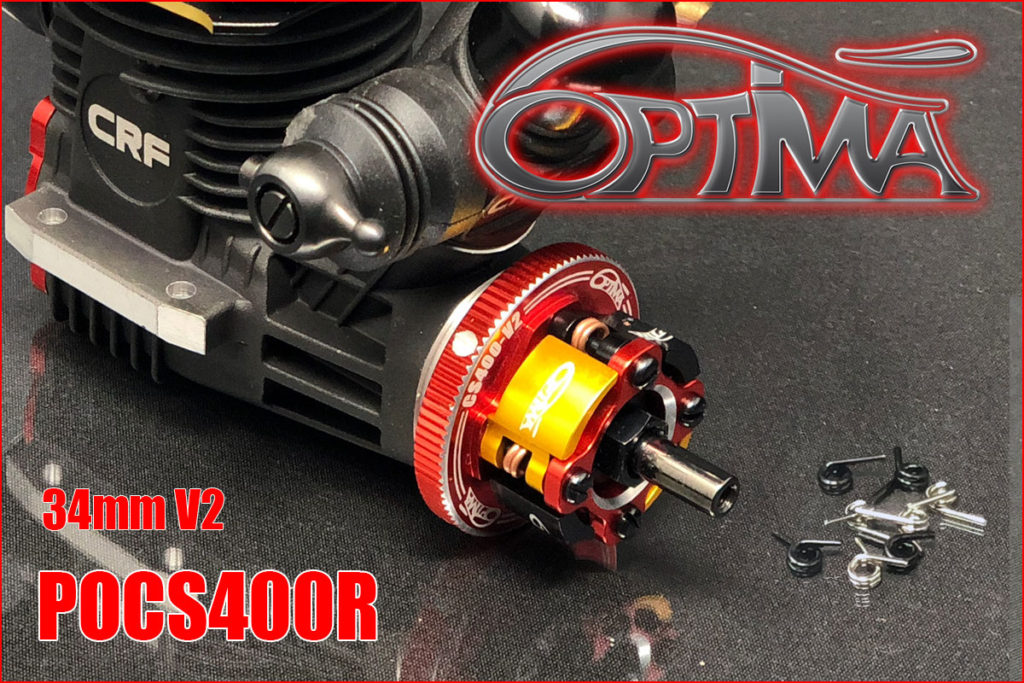 Et toujours:
– Disponible en rouge ou noir, ø32 ou 34 mm.
– Livré avec ressorts de 0.9 mm (d'origine pour pistes glissantes), 1.0 et 1.1 mm pour pistes accrocheuses.
– Epingles vissés pour un entretien aisé.
– 2 masselottes noires en alu (lourdes avec peu de surface de contact) pour coller tôt mais pas complètement, et 2 masselottes gold en alu (légères avec une pleine surface de contact) pour coller plus tard mais complètement.
– Aucun rodage nécessaire, car les masselottes ont d'origine la forme de la cloche.
– Utilisation de cloches de dimension « Standard », ø interne 26,5 mm.
– Trous dans le volant pour débloquer le moteur lors du rodage sans marquer votre CS400.
– Ressorts positionnés à l'intérieur de la masselotte pour éviter la chauffe de ceux-ci et limiter l'usure de la cloche.
Sur la piste, le CS400 procure de nouvelles sensations de facilité et d'efficacité. La motricité est augmentée, la voiture est plus facilement contrôlable même dans les conditions extremes, le moteur respire la santé, et l'autonomie est supérieure…!!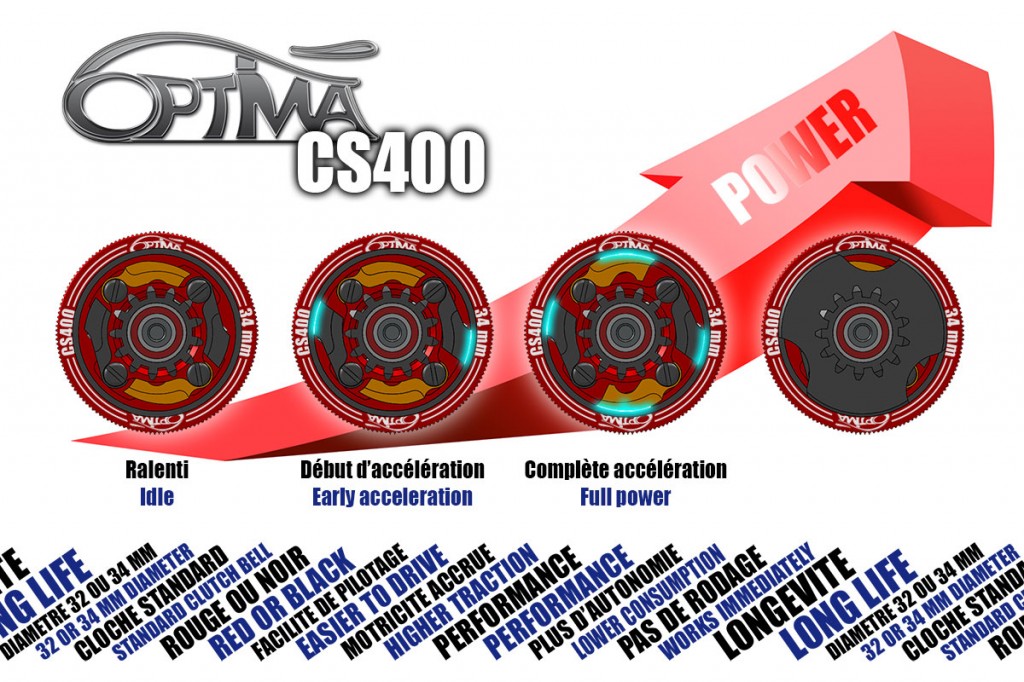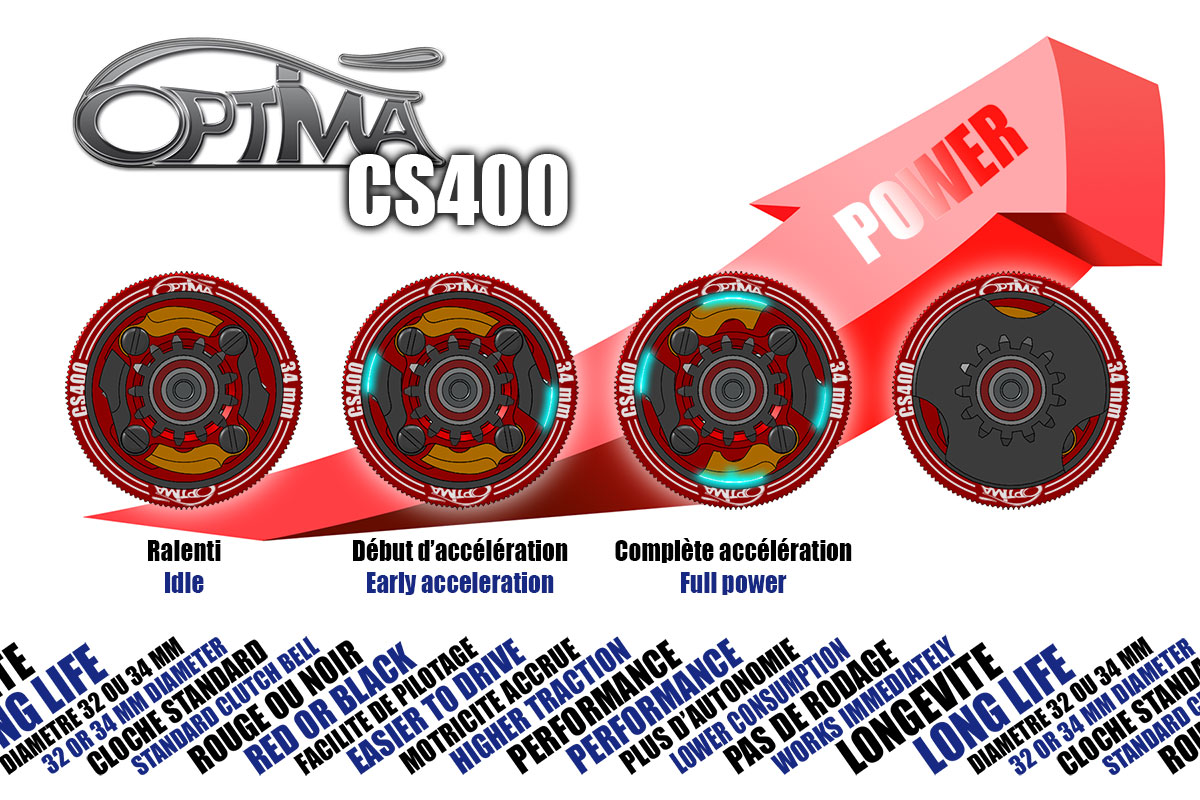 And still belongs:
– Available in Red or Black, with 2 different size ø32 and ø34 mm.
– Delivery with 0.9 / 1.0 and 1.1 mm springs.
– Screwed pins for easy maintenance.
– 2 Aluminium Black shoes (heavy with little contact surface) to bit early but not completely, and 2 Aluminum Gold shoes (light with a full contact surface) to bit later but completely.
– No break-in required, because the shoes have the perfect profil for the clutch bell.
– Use of « standard » size Clutch bells, internal ø 26.5 mm.
– Holes in the flywheel to unlock the engine during break-in without scratch your CS400.
– Springs positioned inside the shoes to avoid heating them and limit the wear of the clutch.
On the track, the CS400 provides new sensations of easy and efficiency. The traction increased, the car is more easily to drive even in extreme conditions, very full power, and consumption is lower … !!