Nouveaux outils OPTIMA disponible.
PW0140 – Outil de réglage de garde au sol et de droop:
– Permet de régler la hauteur de caisse facilement et avec précision
– Vision haute de la graduation comprise entre 10 et 45 mm
– Entièrement en aluminium.
– Réglage de droop (garde au sol maximum) en prenant directement sous l'axe de roue.
– Graduation du droop de +10 à -15 mm avec des cales de 35 mm (Optima PW0150) ou avec des jantes 1/8 6MIK à placer sous le chassis.
PW0140 – OPTIMA Ride Height and droop adjustment tool:
– Allows you to adjust the ride height easily and precisely
– High vision of the graduation between 10 and 45 mm
– Entirely made of High Quality Aluminium
– Droop adjustment (maximum Ride Height) by direct control under the wheel axle
– Graduation of the droop from +10 to -15 mm thanks the 35 mm stand (Optima item PW0150) or thanks 6MIK buggy rims to be placed under the chassis.
PW0150 – Support de voiture multi-fonction:
– Permet de stocker sa voiture 1/8 Buggy à 35mm (hauteur idéale qui permet de ne pas compresser ressorts de suspension interne et externe)
– Cale de chassis 25 mm pour réglages du carrossage et du pincement
– Maintien les amortisseurs au repos avant fermeture.
– Cale de chassis 35 mm pour réglages de droop avec l'outil Optima PW0140
– Supporte les telephones mobile pour regarder une vidéo, ou éclairer une station de collage (exemple)
– Maintien les différentiels debout avant fermeture
– Entièrement en aluminium
– Livré par 2
PW0150 – OPTIMA multi function car stand
– Allows you to store your 1/8 R/C Buggy at 35mm height (ideal height that does not compress internal and external suspension springs)
– 25 mm chassis wedge for camber and toe adjustment
– Keep the shock absorbers at rest before closing.
– 35 mm chassis blocks for droop adjustment thanks the Optima PW0140 tool
– Stand for smart phones to watch vids, or light up during a gluing session (for example)
– Hold the differentials upright before closing
– Fully aluminum made
– Delivered by 2 pieces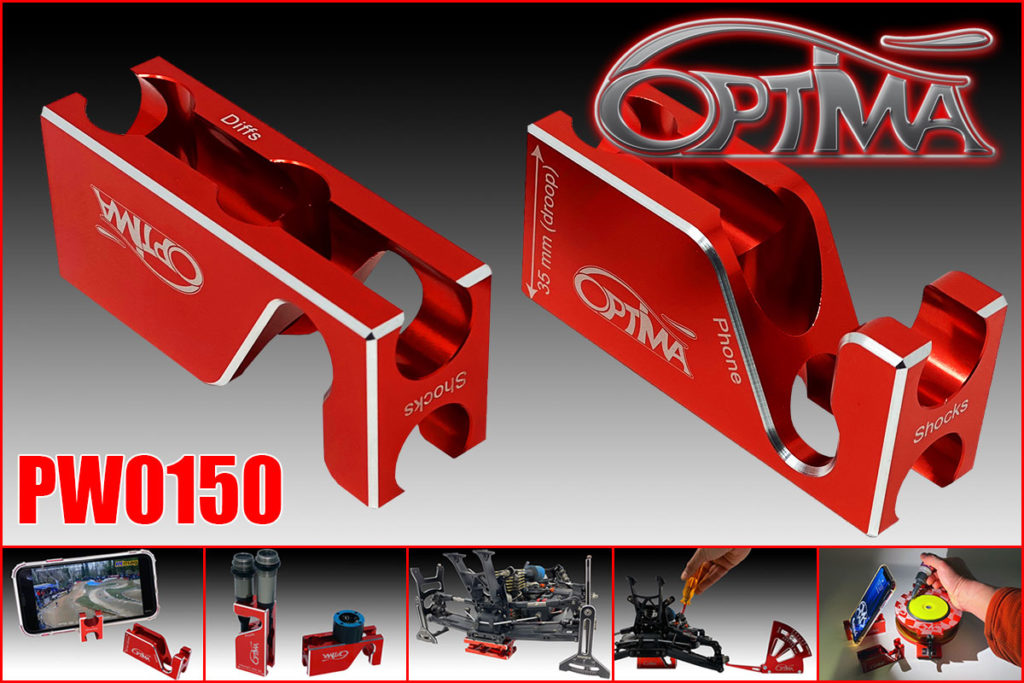 Cliquez pour agrandir / Click to Enlarge